Driving Your Brand Identity with Fleet Vehicle Vinyl Wrapping
What could be simpler than showcasing your business while driving?  Fleet vehicle vinyl wrapping makes any ordinary vehicle stand out in the public eye. For this reason, Westland, Michigan, companies count on DPI Graphics, Inc., a trusted provider of full-service vinyl wrapping for fleet vehicles in the area.
Using superior-quality vinyl wraps in a wide range of colors and films, we will complete the entire design, printing, and installation process for a flawless fit. Contact us to see how easy it is to elevate your brand image with vinyl wrapping for your fleet vehicles!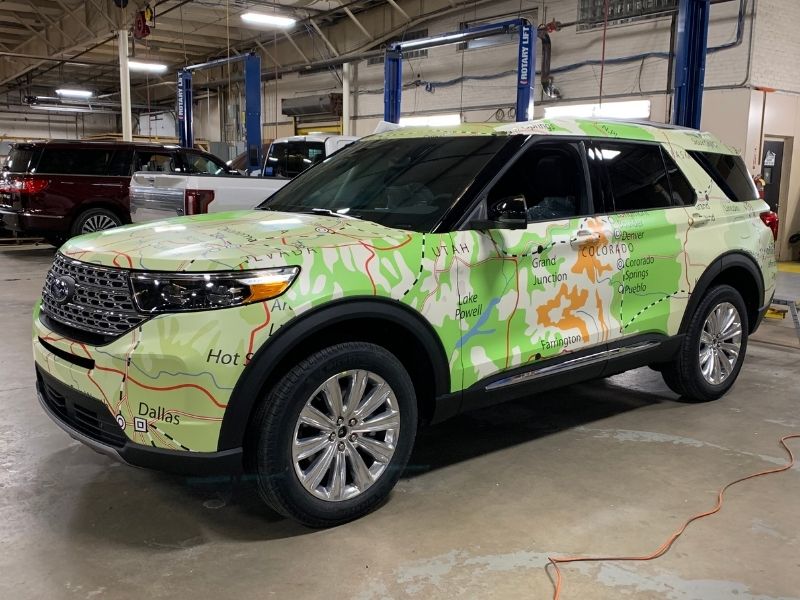 The Power of Fleet Vehicle Vinyl Wrapping
Fleet vehicle vinyl wrapping offers full vehicle coverage and clearly shows a business's name, graphics, and contact information. If installed professionally, vinyl wrapping can be extremely effective on cars, vans, and trucks. Stickers peel and fade, and magnets fall off, but durable vinyl wraps will uphold the professional look your brand needs.
Businesses can customize these vinyl vehicle wraps with endless textures, colors, and finishes. Match your company's branding or create a cohesive design that's attractive and memorable, and you'll have an ordinary fleet vehicle instantly transformed into a mobile billboard.
If your business wants brand awareness, driving gorgeous, eye-catching wrapped vehicles around town will execute your strategy perfectly.
DPI Graphics, Inc. | A Leader in Fleet Vehicle Vinyl Wrapping
DPI Graphics, Inc. remains one of Michigan's trusted providers of vinyl wrapping for fleet vehicles. We handle the entire process, from designing and printing your vinyl wraps to a flawless installation. With an impressive range of vinyl wraps, 20+ years of experience, and skills as a 3M Preferred Graphics Installer, our quality work attracts clients such as:
3M
The City of Detroit
Fox Sports Detroit
The University of Michigan and more
If you want sharp graphics, superior materials, and stunning artwork, our unwavering focus on customer satisfaction offers all that and more.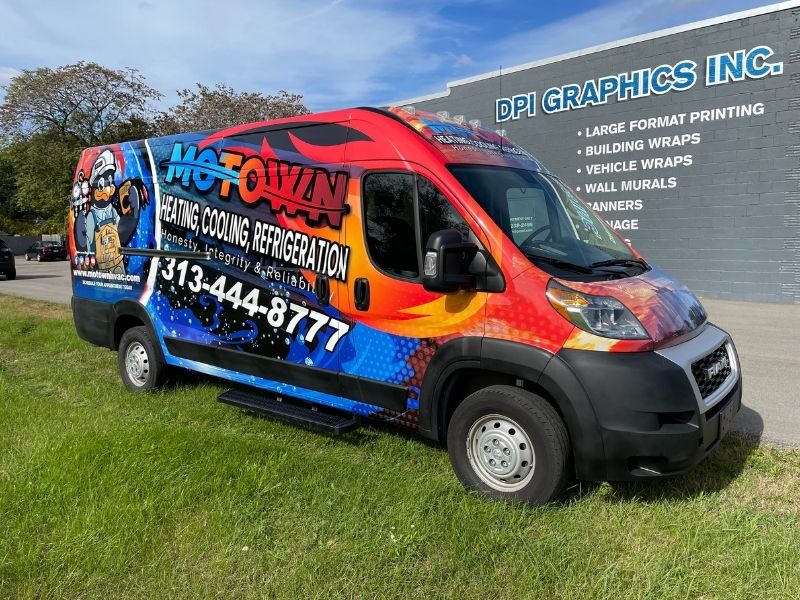 Crafting High-Quality, Customized Fleet Vehicle Wraps
Our company works directly with businesses for design conceptualization, crafting fleet vehicle graphics that reflect your branding and vision perfectly. We offer plenty of customization options to ensure incredible execution, including matte, metallic, and other film types. We also provide endless color choices on partial and complete wraps.
At DPI Graphics, Inc., our fleet vehicle vinyl wrap installers have years of experience in delivering outstanding workmanship. Our products are durable and precisely fitted to each vehicle we service. If your business puts its trust in us, you'll receive impeccable customer service and professional wraps!
Elevating Brands with DPI Graphics, Inc.'s Fleet Vehicle Wraps
One of the best ways businesses can stand out among their competitors is through fleet vehicle vinyl wrapping. Many of our clients have experienced increased success with their own customers and have had more people learn about the brand through these eye-catching designs. It has helped them appeal to a wider audience while they are out and about while maintaining a high level of professionalism and credibility.
It's an investment, but often one that pays dividends with your company's increased revenue from a growing clientele. Our wraps make an impact!
Starting Your Fleet Vehicle Vinyl Wrapping Journey with DPI Graphics, Inc.
If you'd like to connect with DPI Graphics, Inc., chat with our friendly team at your initial consultation. We'll gather inspiration for potential design ideas and then transition to printing once your business is 100% satisfied with our colors, graphics, textures, and everything in between.
Do you want access to high-quality vehicle wraps that work across a wide range of industries, including HVAC, plumbing, transportation, real estate, and much more? Choose our professionally designed, printed, and installed wraps on your vehicle for the respect and attention your brand deserves!
Drive Your Brand Forward with DPI Graphics, Inc.'s Fleet Vehicle Vinyl Wrapping
Does your business want to harness customer growth and increased brand awareness? Local businesses trust DPI Graphics, Inc. with their fleet vehicle vinyl wrap needs, and you can too!
Explore how fleet vehicle vinyl wrapping can drive your brand forward. For fleet vehicle wrapping in Michigan, contact us at (734) 239-2499 to start your journey of building your brand identity..